Quality Policy & Objectives
Swastik Shipping is one of the fastest growing Freight Forwarder and logistics providers in India. The entrepreneurial spirit within the Management Team, which is supported by the young teams who is highly motivated and focused with the right blend of experienced professionals and with the innovative use of technology have been the major factors for our success which we have achieved. We were always at the forefront for innovative practices in logistics which involved out of the box thinking, to become a trusted partner to our clients and our worldwide network associates. The exponential growth of the company in the past years is due to the efforts of our highly motivated team of professionals.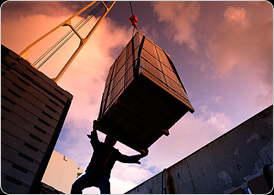 ---
---
We believe that our business is people-centric and the organization can grow only when we empower our employees and give them space to develop into effective leaders. Indian culture stands for a unique value system, thereby imbibing truth, honesty and ethical practices in us. Proper attention is given right fromrecruitment of our staff so that they are focused on delivering with the right attitude to our clients. We focus on delivering right logistics solutions to the customer, whom we consider as our partners, with Ease, Efficiency and Economy. Our entire team work with this philosophy and this has helped us to become a world class logistics and supply chain company, with a global reach. This helps us gain the trust of our clients, as our services are integrated into their businesses and we function as an external partner for their internal processes. One major advantage our clients have when they partner with us is our extensive worldwide network, similarly out worldwide partners have the advantage of SWASTIK network offices in India. This network help our clients and worldwide partners to focus on increasing the market for their services and leave the worries on timely deliveries.

We believe in having the best processes for delivering solutions to our customers, worldwide partners. We understand the importance of technology in delivering this solutions to the clients and our worldwide partners. Our investments in Information Technology have allowed us to develop world class software programme and processes that are world-class, which enable our clients to have an up-to-the minute look at their goods as they move on.

We are staunch believers of long term relationships and our success was always due to the continued support of our customers and our network associates. We want our clients to benefit from the solutions we provide them, We want our employees to be satisfied with the learning, growth and the opportunities they receive within the organization, We want our business partners, our vendors, to grow with us as we move ahead. This work philosophy continues to attract the talented professionals to the organization which help us to grow as one of the largest Logistics players in India. We will continue to innovate to provide the best logistics solutions to our customers and our associates.